SICIS Art of Mosaics - MiIano Mess 2019, Vetrite koduleht, Garuda Wisnu Statue - Indonesia, uudistoode: GemStone, Crystal Mosaics Collection, Basseinide mosaiigid, Meamorfism ja Colorpedia - 900 värvitooni 16 kollektsiooni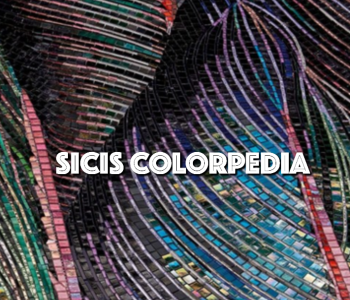 02.04.2019
Aprill 2019
Thank you for visiting!

At the Salone del Mobile 2019 we presented our new collections, among which the spectacular SICIS Lounge Bar which attracted looks and interest during all the six days.
Relive the harmony in the dedicated video we have prepared for you.
© SICIS s.r.l.
Head office: Via Borgonuovo 29 20121 Milano - Administrative office: via Canala 75/79 48123 Ravenna
ITALY

August 2018
We have created a new web portal exclusively dedicated to our new innovate material: Vetrite.

Inside the website you can discover all Vetrite lines, colors, textures and finishes. You can download catalogs and the installation manual as well as see video tutorials.
Juuli 2018
Garuda Wisnu Kencana Statue
Indonesia

Sicis takes part in this majestic project for one of the bigger statue in the world. The statue is in Indonesia and represent the God Wisnu riding the legendary Garuda bird.

Sicis has created a custom blend especially for the project, using Glimmer and Iridium glass mosaic collections in order to give a sense of preciousness to the hat and shoulder pads.

Gem Glass Vetrite new collection
KATALOOG
Timeless gems that reflect their rare beauty through the magic of glass. Glass slabs with rich and saturated colors and shading, rippling patterns create various color effects on fields of opaque, white, or chrome invoking lunar-like landscapes. Also available translucent allowing light to play with the colors and patterns.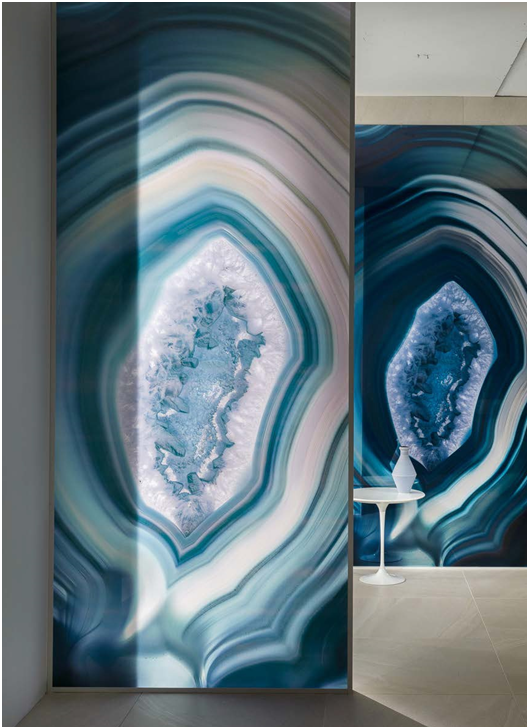 CRYSTAL MOSAIC COLLECTION
A new collection to create totally new decoration solutions. From the arabesque designs to the multicolored motifs, it ranges from the most modern patterns to the classic "tone on tone" or the monochrome elegance.
Sicis is projected towards an evolving world, where every surface is the protagonist of a space and each element affects its beauty.
Mai 2018
Mosaiigid basseinidesse
SICIS toodetavad mosaiigid sobivad suurepäraselt basseinidessem, SPA kõigile pindadele- tagades ja järgides libesimsekindlust rahvusvaheliste standartite nõuetele vastavalt.
Мозаика для бассейнов
Приглашаем вас в путешествие по миру для ознакомления с бассейнами, реализованными фирмой SICIS. От Востока до США - коллекции, расцветки и декоративные мотивы, использованные для отделки бассейнов, саун, ванных комнат, СПА, косметических центров и душевых, которые не остаются незамеченными.
На этапе изготовления на наши элементы может быть нанесено перманентное покрытие SICIS GRIP, не влияющее на внешний вид материала, но обеспечивающее противоскользящие свойства в соответствии с международными стандартами.
Küsige palun lisainfot aadressil plaadipunkt@plaadipunkt.ee
Запросите дополнительную информацию у представителя фирмы SICIS или напишите нам по адресу: plaadipunkt@plaadipunkt.ee
SICIS S.r.l.
Via Canala, 75/79, 48123 Ravenna · Italy
www.sicis.com

Aprill 2018
Meamorfism Art
Meamorfism on revolutsiooniline kunstnike liikumine, algatatud kuulsa kunstniku Ali Meamar poolt, kus traditsiooniline "kunstiteos" on ühendatud kõige uuemate digitaaltehnoloogiatega.

Meamorphism Art
Meamorphism is a revolutionary artistic movement developed by the famous artist Ali Meamar, where the traditional "fine art" is combined with the most recent digital technologies. Our artworks presented here find a perfect identification with it.
Mosaic decorations from the Structura Collection have been created with a peculiar composition method using tiles different in materials, colors and transparency in order to attain a three-dimensional effect. Behind, a wise and careful research work, expertise of the Maison.
These artworks offer to the observer a dynamic experience of visualization, every piece is unique. Is therefore possible to observe infinite variations of the same decoration.
SICIS colors seductively emit, reflect and playfully transmit light. Suitable for Interior Exterior Wet Dry conditions. Manual skill at the service of the Art of Color. Richly pigmented colors offering an infinite range of shades, textures and nuance creating unique installations every time. Documented tests prove durability.
12 kind of finishes, more than 16 Collections in almost
900 colors.
All made by SICIS at our Ravenna Factory, Italy
Красочные элементы SICIS отражают свет, пленительно распространяя его вокруг себя. Материалы пригодны для внутренних и наружных работ. Мастерская выработка в сочетании с искусством цвета. Высокопигментированная окраска обеспечивает бесконечную гамму цветовых оттенков, тонов и нюансов, позволяющих создавать уникальные инсталляции. Долговечность подтверждается задокументированными испытаниями.
12 типов отделки, 16 коллекций с почти 900 расцветками.
Вся продукция изготавливается на предприятии SICIS в Равенне, Италия.
November 2017
SICIS Cersaie 2017 mess. Mis uut ja huvitavat?! Käsitöö tekstiilid, kunstiliselt esteetiline mosaiik, suured klaaspaneelid
Uudistoode - "Klaaspaneelid" tehnilised andmed ja paigaldamise juhised.
VETRITE, LARGE FORMAT GLASS SLABS AND TILES. TWO LAYERS OF SAFETY GLASS SANDWICHING COLORS, TEXTURES, METALLICS AND TEXTILES. CUSTOM COMPOSITIONS AVAILABLE.

WALLS, FLOORS, COUNTERS AND FURNITURE CLADDING. STANDARD THICKNESSES 6mm-1Omm. CUSTOM THICKNESSES AVAILABLE.
| | |
| --- | --- |
| CERSAIE 2017 - BOOTH APPLICATION | VETRITE ENDLESS - DECORATIVE APPLICATION FOR ROOMS |
VETRITE TILE - SMALL FORMATS FOR GEOMETRIC PATTERNS
| | |
| --- | --- |
| VETRITE FOR BATHROOMS | VETRITE FOR BATHTUBS |
VETRITE FOR KITCHEN
| | |
| --- | --- |
| VETRITE FOR HOSPITALITY | HOTEL ROOM BY WOW ARCHITECTS WITH SICIS PRODUCTS |
VETRITE AND MOSAIC FOR PRIVATE HOME IN DOHA
| | |
| --- | --- |
| WAYS TO MAKE YOUR SHOWROOM VIGNETTE WITH VETRITE | WAYS TO MAKE YOUR SHOWROOM VIGNETTE WITH VETRITE |
VETRITE AGATA BLUE
Video 1: Production Process and Cutting Technique
Video 2: Bevelling Edges and making Holes
Video 3: How to install Vetrite
Video 4: Sicis Headquarters Workshop.
Working on Vetrite and slabs installation
Video 5: Crash Test and furniture application